Complex technology at the heart of in-house developments
Open technologies
Most of the fundamental technologies on the market are open and available for practical application in one's in-house developed products.
This requires not just the application of the existing technologies, but also the creation of our own interaction system based on them.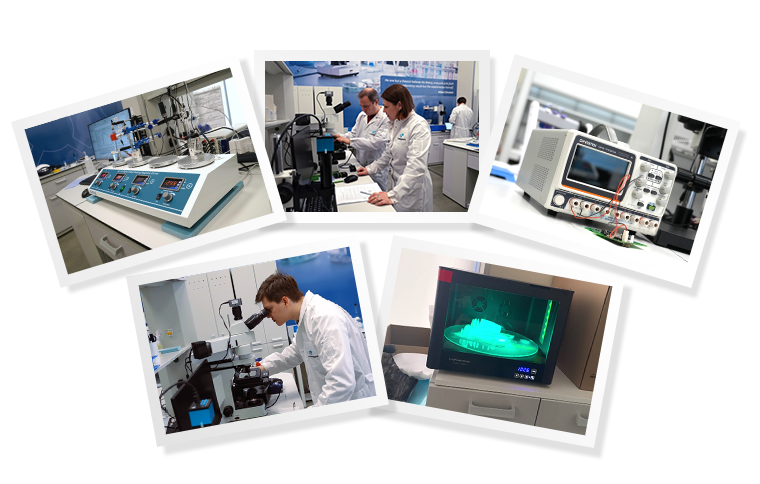 We are creating a link between
science and business
01
Innovations
We are combining scientific developments with practical applications
02
Assessment of potential
Our analysts are assessing the potential of the area
03
Searching for and supporting innovation
We are monitoring ready-to-use MedTech innovations and support the creation of technologies
04
Optimization to meet the market demand
We are creating a product using innovation and testing the demand
05
Launch onto the international market
We are attracting funding and introducing the product to the international market
06
Patents and international law
We are forming a group of patents to prove ownership of the developed solutions or using the existing patents with the holder's permission
The growth of our company's capitalization is ensured by the developments and integration of new technologies and patents
Production
In-house production
The majority of components are high-tech products that are custom-made at sites located around the world.
In-house production is an assembly line of supplied components.
Production requires minimal capacities, so we aim to use existing, appropriate buildings and premises.
Joint production
All the elaborated technologies will be presented as a business plan and will be available for distribution all over the world.
Joint production will take place in the late stages of development at our partners' sites and reinforce our position in promoting the products.
Become a co-owner of the technology and earn a profit from it
Don't miss the chance to become a co-owner of the project and buy investment shares in the company at the best possible price